Keemlaw appeals for unwanted catering kit
Chris
Keemlaw has joined forces with The Salvation Army to launch an appeal for unwanted catering wares.
Keemlaw is hoping to get its hands on unwanted kit that can be used to produce 'Home Kitchen Packs' for vulnerable families and individuals who are being re-housed or who have lost everything due to difficult circumstances.
As part of the 'Home Kitchen Packs' initiative, Keemlaw is offering a part exchange value on unwanted tableware, glasses, utensils, pots, pans or bakeware against new items.
Derrick Law, founder and director of Keemlaw, which is a member of CEDA, said: "Many of us buy new equipment for the kitchen, but rarely is the reason because our existing equipment has worn out, it's simply because we want something better or we have changed the colour scheme.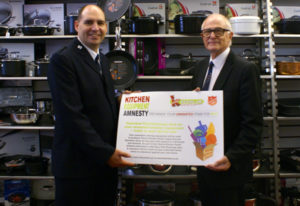 "Keemlaw is very excited to be supporting The Salvation Army, however, our success of the 'Home Kitchen Pack' depends on donations. It's a great initiative that puts good equipment to good use."
Each Home Kitchen Pack will be customised to suit the particular needs of the recipient.
Law said that by supplying only the equipment that is needed, Keemlaw can ensure that donations are being used as appropriately as possible based on the needs of beneficiaries.
Keemlaw has set up collection points for catering trade items at its showroom and workshop in Aylesford, and domestic items at its Keemlaw Catering Complements outlet in Maidstone.
The Salvation Army is one of the biggest providers of services to homeless people in the UK and with Christmas around the corner, Keemlaw hopes the partnership has come at a good time.
Law said the key items it was looking for include: plates, bowls, mugs, cups, glasses, cutlery, saucepans with lids, frying pans, baking trays, casserole dishes and kitchen utensils.
Any parties wishing to lend their support can contact Keemlaw on 01622 717177 or by emailing info@keemlaw.co.uk