Knee deep in flood water to rescue stock
Chris
Flooded stores bring out community spirit
A BURST water main plunged three shops under three feet of water but could not dampen the "spirit of The Blitz".
Staff at Harpers, Cook and Dine, and Black Dog in Market Buildings, Maidstone, arrived at work on Monday to find their basements waist-high in brown water.
Faced with disaster, staff from the three stores immediately joined forces to form a human chain to salvage stock from the basement of the worst-hit shop, Cook and Dine.
The other two shops' basements were flooded but were not in use.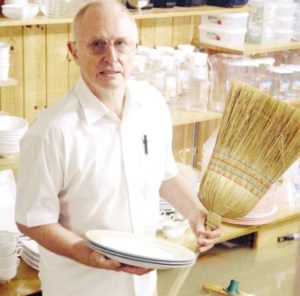 Derrick Law, owner of Keemlaw Cook and Dine, said: "My lovely neighbours came to our assistance. I can't thank them enough.
"It is fairly obvious that there will be damage to the floor, which was wooden and had carpet, and I stored cooking equipment, chef's uniforms, table cloths and cleaning equipment down there.
"We managed to save a reasonable amount. We salvaged anything about waist height."
All three shops stayed open during the floods, including the coffee shop at Harpers which used bottled water to serve teas and filter coffees while the water was disconnected.
Kate McCourt, owner of Harpers, was one of those who pitched in to form the human chain.
"It was the spirit of the Blitz," she said. Sue Holmes, owner of Black Dog and Salamander, added: "Because we are all independent traders we have to help each other."