Keemlaw raises money for local charities
Chris
Three charities have each been presented with a cheque for £100 by the winners of an online charity bake-off competition.
The contest was organised by Keemlaw Catering Complements, in Market Buildings, Maidstone, to celebrate the launch of the company's online Sugarcraft and Bakeware Store.
Keemlaw invited home cooks and anyone that dabbles in the kitchen, to create, bake and decorate a cake masterpiece to win a donation for their chosen charity.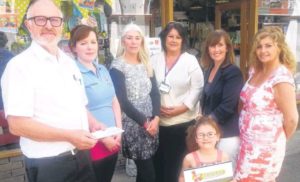 There were three categories. The winner of the best-decorated cake was Jessica Malpas who donated her prize to Demelza Hospice Care for Children. Demelza's charity store manager Sophie Amos collected the cheque.
The winner of the most creative cupcake section was Chloe Debnam, aged four, who chose to donate her prize to NSPCC. The charity's community fundraising manager Michele Baxter said: "It's lovely that Chloe's cooking is going to help protect children. Well done and a big thank you!"
Two winners shared the award for the under-12s "anything good goes" section. They were James and Ruby Chapman. They couldn't be at the awards ceremony on Friday, but asked for their donation to go to The Oliver Fisher Special Care Baby Trust at Medway Hospital. It cares for 950 babies a year and the money will go towards new equipment.
Keemlaw director Derrick Law judged the competition with Sarah Allsebrook, who is a patisserie chef and owner of the Frédéric Café Bistro.
Mr law said: "We have discovered many talented bakers. Their work has stretched a long way to helping others. It's great more people are now enjoying baking at home, I think people have discovered homemade cakes just taste significantly better."